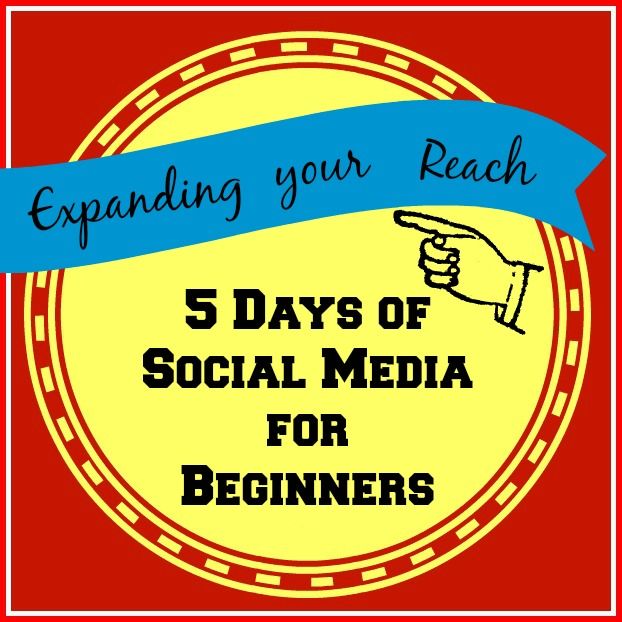 It's week two of our series - 5 Days of Social Media for Beginners!
Now that we've covered the basics of blogging and networking we're going to move on to the best ways to utilize social media.
Social Media 101
Before you choose your social media outlets think about your niche again.Which forms of social media will give you the most "bang-for-your-buck"? If you're a food blogger perhaps Pinterest and Instagram would be your best tools. If you blog about books or homeschooling, finding ways to discuss those topics might be the best use of your time. Twitter and Facebook might work better for you.
So your first social media assignment -
Decide which forms of social media will be a good fit for you and start using them!If you are already using some form of social media work on expanding your reach. Those people you're following who have a similar niche - follow their social media pages as well. Interact with them. Use the social media outlets you've chosen to build a community of like-minded individuals.
Growing your Fanbase
So how do you go about getting more Facebook likes or Twitter followers? Here are a few tips for the 3 social media platforms that I use:
Any Platform:
Update your page - add a picture, background, and a short bio. Don't forget to include a link to your blog and other social media sites.
Follow others that share your niche.
Post, comment, tweet, or share!
Share your blog posts.
Twitter:
Once or twice a week choose one of the popular tweeters that you follow and follow the people that follow them.
Do a Twitter search using a hashtag that fits your niche and follow the people who use that hashtag.
Share relevant tweets - retweet others that have similar interests and share similar content.
Use the hashtag search again - this time to find relevant content to retweet.
Don't just share your own stuff - Twitter is meant to be social so retweet, reply, mention, and favorite.
Facebook:
Facebook is a tough place now for pages. It seems that the more "likes" you have the fewer people actually see your updates. My guess is that they are really pushing for you to "Promote" your page by paying for the service. I'm not sure where Facebook is planning to go with this so we'll just have to wait and see.
Share more than your blog post updates. Facebook is a great place to ask questions and interact with others.
Pictures are popular and more likely to be shared by others than long status updates.
Ask another blogging friend to promote your page or give you a shout-out from their Facebook page.
Do the same for others - share and promote other blogs.
Like and comment on other pages from your fan page.
Host a giveaway and make one of the entry options a link to your Facebook page.
Don't spam your followers. If you share too much and/or too often you'll be put on ignore.
Numbers are good but likes, shares, and comments are even better - so spend more time interacting than you do trying to gain more page likes.
Pinterest:
Organize your boards and give them interesting names.
Set up 2 boards for your blog - one for general blog posts and one for "the best of" posts from your blog.
Join a group board or two (something that fits your niche!) and add your own pins.
Add pinning links or buttons to pinnable posts.
Here's your second assignment -
Choose one form of social media to focus on. Update your Pinterest page, adding a board or two, interact on some Facebook pages, etc. Decide which one would most benefit your blog and get to work!
And a third assignment -
Make your content easy to share - add social media sharing links to your page to make it easy for others to share your content.
Don't forget to keep continuing the work from last week - keep commenting on other blogs and finding new blogs to follow!
Here's a recap of your week 2 assignment list -
Decide which forms of social media would be best for your blogging niche.
Focus on one form of social media - updating your page and interacting with others.
Add social media sharing links to your blog posts/page.
That's it for this week. Next week we'll be discussing Pinterest - which is fast becoming one of the best ways to reach new followers. Let me know how you're doing on your assignments!
Check out the complete series - 5 Days of Social Media for Beginners