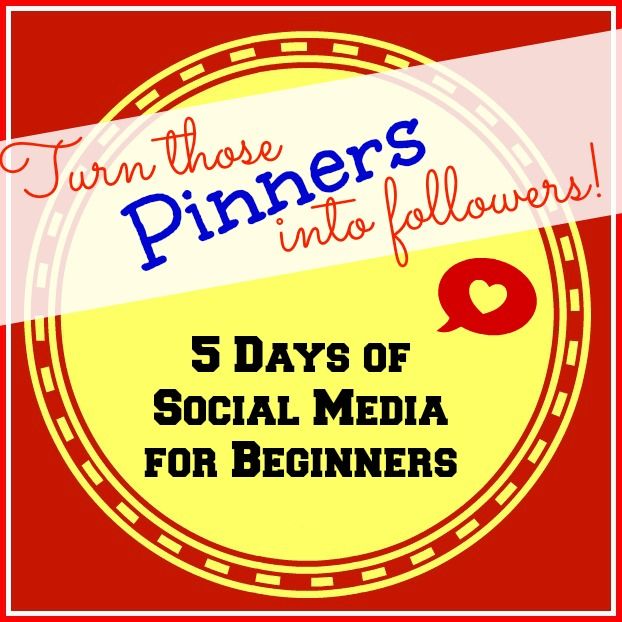 Time for the next installment of our 5 day series - 5 Days of Social Media for Beginners!
We've covered the basics of blogging and social media but there is one area of social media that has taken the blogging world by storm - Pinterest.
If you're not on Pinterest, I'll wait - go set up an account.
That's your first assignment!
Set up an account, link your blog, upload a photo. Make it friendly. If your goal is to use it for blog traffic (as well as personal fun!) then set the name to match your blog. The two boards that relate to my blog are front and center - the first boards that will be seen by potential followers.
Pinterest has overtaken all other forms of social media in bringing traffic to blogs. If you ask many popular bloggers they will say that most of their traffic now comes from this one source. It doesn't replace other forms of social media, which can still be used effectively in other ways, but one well-done and well-placed pin on Pinterest can bring more traffic and people who might never have found your blog any other way.
So, let's get down to it - how can we, as bloggers, use Pinterest to bring traffic to our blogs?
Using Pinterest Effectively
The first step in getting people from Pinterest to your blog is to pin your blog posts. BUT, if you want people to pin your posts then you're going to need to do a little bit of work.
It's all about the "Pin-able Image" Every blog post you make should now have an attractive image that you can pin to your boards. So how do you make these neat images?
The best and easiest way I've found to do this is with PicMonkey. It's a free service (though there is an upgraded option if you choose to purchase). Here are some easy tutorials to get you started:
Of course, you can start using PicMonkey with current posts but you can also use it to refresh good content in your archives. Go through your archives looking for posts that have been popular. Create an interesting pin-able image and add it to the post. Update the content if necessary. Then pin it to a few boards.
Here's your second assignment -
Find a few posts in your archives that you think would do well on Pinterest - a DIY project, a recipe, a Top 10 list, etc. Create a pin-able image for each and pin them to a few different boards. See what kind of traffic they'll bring!
Also, make a list of posts to update. Add it to your to-do list - once a week find an archived post and update the content and add a pin-able image. This will keep old posts fresh and relevant.
Keep 'em Coming Back!
Okay, now you've got your board, you're pinning your content and seeing a growth in traffic. The next step is to get people to follow your Pinterest boards.
Your third assignment -
Include a Pinterest icon with your other social media links in your blog's sidebar or header.
Other great ways to include some Pinterest love on your blog:
Embed a widget in your sidebar that links to one of your boards
Make a list of popular pins for your sidebar
Include a "Pin this" call-to-action within a post
Mention and link one of your Pinterest boards within a blog post
Embed a Pinterest board widget in a blog post
Tweet about one of your boards
Share a link to one of your Pinterest boards on Facebook or Google+
Here's a recap of your week 3 assignment list -
Set up a Pinterest account. Create and organize boards. Find some group boards to join.
Start using PicMonkey - follow a tutorial or two. Create a pin-able image for a post in your archives.
Add some Pinterest love to your blog - a link to your account, a widget for one of your boards, etc.
Get to work - start using PicMonkey or updating your archived posts. If you have any other Pinterest tips let me know!
Be sure to come back next week - we'll be talking about great resources for bloggers and managing your time. Let me know how you're doing on your assignments!
Read the full series - 5 Days of Social Media for Beginners