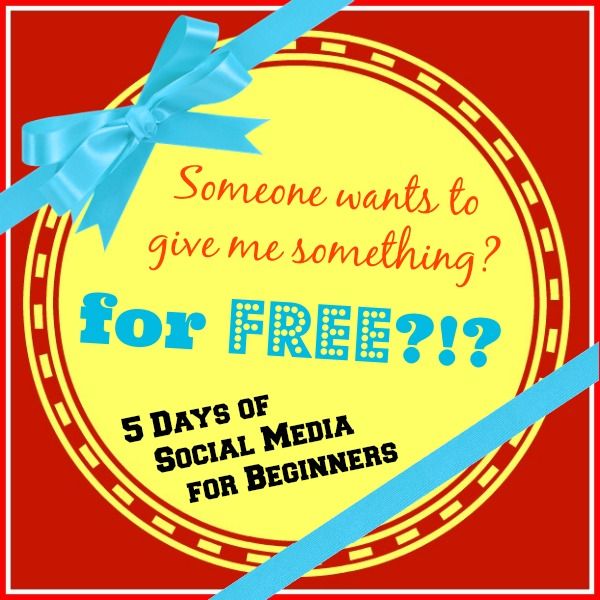 It's the last week of our series - 5 Days of Social Media for Beginners.
We've covered the basics of blogging and networking, social media 101, the importance of Pinterest, and setting office hours. Now it's time to do something fun!
If you've been blogging for any length of time you have probably discovered the world of free stuff for bloggers. There are many publishers that offer blogging programs - you receive a book in exchange for reviewing it on your blog. There are also many places that offer products for the same purpose. I spent about 5 years on a team that worked specifically with homeschoolers to get the word out about their products. Whatever your niche, there is sure to be someone who would like your help in promoting their product or service.
If you want to be ready for these opportunities, you'll want to create a media kit. A media kit can be as simple as a short bio about you and your blog and should include your numbers and stats. This is your personal promotion - use it to showcase your talents.
A media kit can be useful for other reasons as well. It can be used as great exposure for your blog and it's great to have ready when someone contacts you about advertising and promoting on your blog. You can include guidelines for reviews and giveaways in your media kit. When and if you decide to offer advertising on your blog, you can also include a page about rates and promotions.
Creating a Media Kit
The first step in creating a media kit is knowing your numbers. If you don't have Google Analytics installed on your blog, you will need to do that first.
So guess what your first assignment is?
You got it - go get Google Analytics installed. You are going to need to track those numbers for your media kit. Some companies will also specifically ask for your analytics numbers.
When I created my first media kit, Marcy's tutorial at Ben & Me was very helpful. By using her simple template I was able to create a basic one-page media kit that has been very helpful to have on hand. (And I have had companies ask specifically for my media kit so it is wonderful to have one ready to go!)
Your second assignment -
Create a media kit. You might not need it right away but it will be great to have on-hand when you are ready!
I have had a great time discussing these topics. And, while working on these posts I had to cut so much (there just wasn't enough space to share it all!) so I've decided to do another 5-day series for those topics that I didn't get to. So get your assignments done and come back in March for more!
I hope this series has been helpful. If you want to go back through the posts and assignments you'll find them all linked to the first post - 5 Days of Social Media for Beginners.