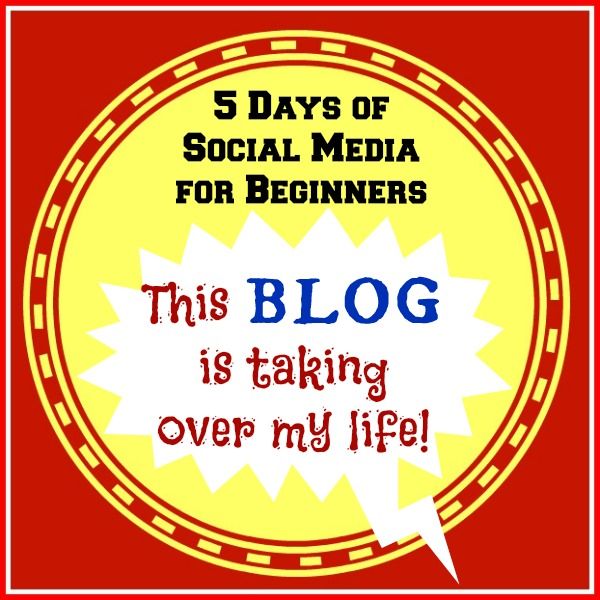 We're reaching the end of our series - 5 Days of Social Media for Beginners! We've covered the basics of blogging and networking, social media 101, and the
Blogging is fun. Then you add a Facebook page, start a Google+ page, oh, and then you decide to get on Twitter. And let's not forget the many hours spent scrolling through Pinterest! It can be overwhelming to move from blogging and adding in all these other things. It's hard enough to find the time to write good content (every week!) and then we toss in all this social media stuff. How do you keep track of it all?!
The truth? You can't. You need to decide what social media platforms will be a benefit for you and your blog and just let the others go. LinkedIn? Great website for professionals but doesn't seem to be something I need right now so I can cross it off my list. Instagram? I think it's fun and all but I don't snap many pictures so it's kind of not worth my time. Facebook? Great place to discuss books and homeschooling with other readers and homeschool moms. Score!
Will this be the same for everyone? Of course not. There are many bloggers who love Instagram and use it a lot. It just doesn't fit, for me, and would be just another thing to maintain. So decide which platforms work for you and use them. Don't worry about the other ones.We just don't have time to keep up with all these various forms of social media and still have time for our daily lives.
Setting Office Hours
Here's my moment of honesty: I have tried to sit and work on homeschooling stuff with my daughter and write a blog post at the same time. But I have a hard time multi-tasking and find I work better if I focus on one thing at a time. So why I thought I could blog and teach at the same time eludes me! I actually shushed my daughter when she was asking me a question about math because I was too busy blogging about homeschooling.
The irony is not lost on me.
After that happened, I decided I needed to institute daily and weekly "office hours" for blogging and all the stuff related to that. Of course, everyone's will look differently. This is what works for my life at this point in time.
Daily Social Media Tasks: On weekday mornings I take 1 hour (I actually think I'm going to start setting a timer for each job to keep myself on task) to do a handful of social media related tasks after going through my email. I tweet, update my FB status, G+, and pin my blog post. Then I spend a bit of time on Twitter and Facebook, tweeting and finding things to share (that fit my niche!). Eventually, I will get G+ worked in here too.
Blogging & Networking Tasks: Some other time during the morning I do a few other tasks - checking email again and going through my blog reader - reading and commenting on other blogs. I join a link-up or two if I have a post that fits. For every link-up I join I try to go and comment on at least two other blogs. Some days are quicker than others!
Blog Writing: I write most of my blog posts during 2 2-hour chunks of time during the week. Usually, on Friday afternoon I write up our homeschooling weekly report and then work on posts that need to "go live" between Saturday-Tuesday. Then, on Monday or Tuesday, I'll do another 2-hour afternoon session working on posts that will be posted sometime during the remainder of that week. Very often, I'll have drafts saved a few weeks ahead of when the posts are scheduled - I can add pictures, find resources, map out my thoughts, etc. when I have a few spare minutes. Then, during one of my blogging sessions I can just fine tune things and get it ready to post.
Weekly Tasks: Each afternoon I do another quick 20-minute (or less!) session. Each day is a different assignment. Mondays/Thursdays I catch up on responding to emails and blog comments if I haven't already gotten to them. Tuesdays/Fridays I do Twitter tasks - filling my Buffer, interacting with other tweeters, joining a quick Twitter party, and finding new people to follow. Wednesdays I schedule out some posts for Facebook (love the scheduler on FB!).
That's pretty much how my "Blog Work" week goes - about 15 hours a week. Except for the actual blog writing, I do these things when they fit in my day. And, besides the actual blog post writing, I can do some of these tasks while I'm waiting for TJ to finish up an assignment. Some days I don't get to all my tasks. And I take weekends off.
Your only assignment -
Set up your own "office hours" schedule. Sit down and map out how much time you can spend on blogging and social media. The fewer hours you can devote to blogging/social media, the fewer social media platforms you should be using. It's easy to stretch yourself too thin. You'll be more effective if you focus on one or two then trying to keep up with three or four.
Next week we'll be wrapping up our series so don't forget to come back!Are you working on your assignments? Let me know!
Read the full 5 Days of Social Media series!