Where do you go from here?
It's been quite a month with our 5 Days of Organization for Bloggers! I've had a great time sharing these resources and tips.
Getting Organized
We've talked about all the tasks involved in blogging and divided them up into smaller chunks - daily tasks, weekly tasks, and monthly tasks. I shared some of my favorite tools to make blogging easier, and the steps involved in getting your blog ready to review products. There have been quite a few checklists involved! This week we're going to talk about taking that next step.
What is that next step?
Monetizing your blog is the next logical step.BUT only if you want to - no one will force you to put up ads or join an affiliate program. Many bloggers choose to never take this step and that is totally fine. For me, it just seemed like the natural place to go. I love blogging and have been doing homeschool product reviews for years and last year, when I first considered monetizing, I thought, "Why not?" I enjoy blogging but it does take time. So why not turn it into a part-time job?
Many bloggers start right out with ads and affiliates from the get-go. I missed the boat on that one since I was just journaling about homeschooling in the beginning. But I'm actually glad that I didn't start out that way. I'm happy with the journey my blogging has taken. And I like this new adventure of becoming a 'pro-blogger'.
Are you ready to spend time monetizing?
I think that if you're a new blogger and still working on building your audience and readership then you shouldn't spend the bulk of your time trying to monetize. Put up a few Google AdSense ads and join a few affiliate groups (like Amazon) but most of your blogging time should be spent creating good, evergreen content and expanding your reach.
If you've been blogging for more than six months, your posting good, shareable content every week, and have a steadily growing following and readership then it's time to seriously think about further monetization opportunities for your blog.
Basic ways that bloggers earn money:
Creating your own e-products to sell or share
Affiliate programs
Ad networks
Paid Product Reviews & Giveaways
Sponsored Posts
Working as a virtual assistant for another blogger
For every blogger, this will look completely different. You'll need to spend time researching and looking for things that fit your niche and your available time.
Take your time and thoughtfully consider your choices instead of just slapping ads all over your space. If you share about a specific product or book anyway, why not sign up for the affiliate program and earn a bit of money while still talking about products you love?
Resources for monetization
I'm pretty new to this part of blogging so I am in the figuring it all out stage and finding things that work for me. That involves lots of reading and visiting many, many blogs to see what they are doing! Along the way, I've discovered some great resources that have helped me with this stage of growth.
The following list includes some of the most helpful resources I've found for figuring out this whole 'monetization' thing:
How have you monetized your blog?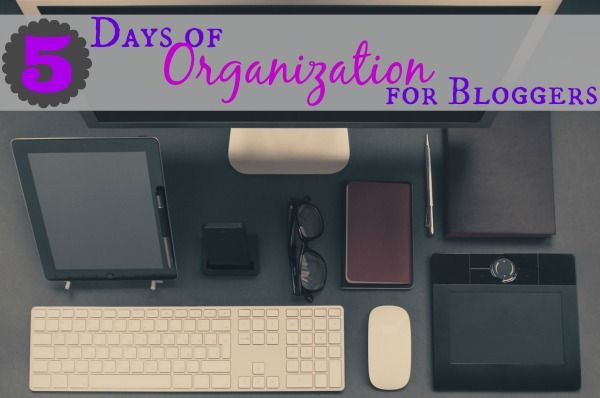 This is the final day of our 5-day series - 5 Days of Organization for Bloggers.Here's the complete line-up:
Thanks so much for joining me for this series.