We are nearing the end of the series 5 Days of Organization for Bloggers!
So far, we've talked about a variety of tasks for bloggers - daily tasks & weekly/monthly tasks. Last week I shared some of my favorite blogging tools. This week we're going to be talking about working with brands & ad agencies by doing product reviews & hosting giveaways.
A Bit of History
I was very blessed to join Schoolhouse Review Crew when TJ was still in preschool and I worked with them until the middle of her 4th-grade year. Since then I've worked with a few companies and ad agencies as well as a few product launch teams. So I have had a great deal of experience with blog reviews & giveaways!
The first step in working with companies, brands, and ad agencies, is to get your blog "PR ready".
This is what your page should have:
About Page - let your readers and prospective companies get to know you and your blog. Include a picture!
Contact information - either a contact form or an email address. Make sure it's easy to find.
PR Page - This should include what a review or giveaway would include and any other necessary information. Instead of having this linked right to the menu on my blog I chose to just include a link to it from my about page.
Sneeze Page - Create a page that shows off your best posts. Or make more than one! (Remember that discussion about your niche? Now's the time to show off those really good posts!) Link it to your blog menu so it's easily accessible to new readers.
Media Kit - Create a media kit. You can put this right in your blog menu or include a note about it from your PR or About page.
Once you have the basics you're ready to go! You'll start receiving offers in your email and you can get in touch with companies you're interested in working with. You can also join groups specifically for bloggers to work with brands. But, don't go crazy and say yes to every offer. It's okay to say no.
Be selective about what you choose to review.
Don't offer to review something just because you can get it for free. Make sure it will fit your niche. Or, if it's not a perfect fit, find a unique way to share that fits your voice and your niche.
Every review should include a few basics.
Things like links to the company websites, interesting images and pictures, and basic information about the product or book. The checklist below will help you stay on-track (and keep you from forgetting something important!). If you're working directly with a brand or ad agency, keep them in the loop.Let them know when the package arrives, give them a firm date for your blog post and what other social media perks they may wish to include. Once you're review is posted make sure you send them a link. Above all - BE PROFESSIONAL!
Many times companies will want you to host a giveaway.
This can be in conjunction with a product/book review or just a giveaway by itself. This can be a good investment for both you and the company. But it does take time to run a giveaway and promote it. This is another area where you will want to be in touch with the company - do they expect social media links to be part of the giveaway? Work this all out beforehand.
In the checklist below you'll find a list of things to include in the giveaway. This really helps me stay on track and remember what should be included! And don't forget to use a nifty widget to keep your giveaway running smoothly.
Whichever you choose, there are a variety of options for entry choices. You could even run your giveaway on Facebook if you want to do one with a quick turnaround (just be sure to include a disclaimer!).
Are you ready to review? What are your favorite companies to work with?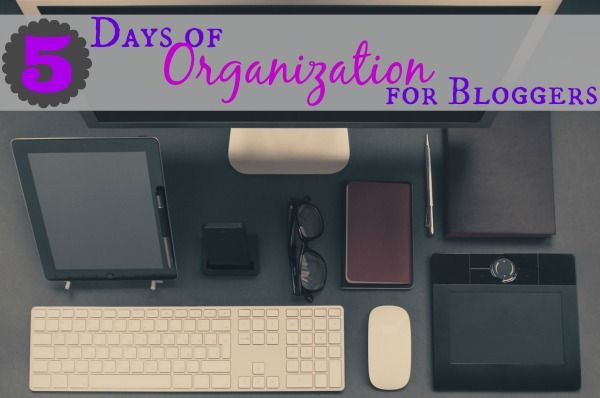 This is the fourth day of our 5-day series - 5 Days of Organization for Bloggers.Here's the complete line-up: