When I have leftover chocolate, melted for something else, I love to make these little peanut clusters. It's one of those recipes that isn't really a recipe - there's no better way to explain it. I don't measure anything - I just toss stuff in until it looks right!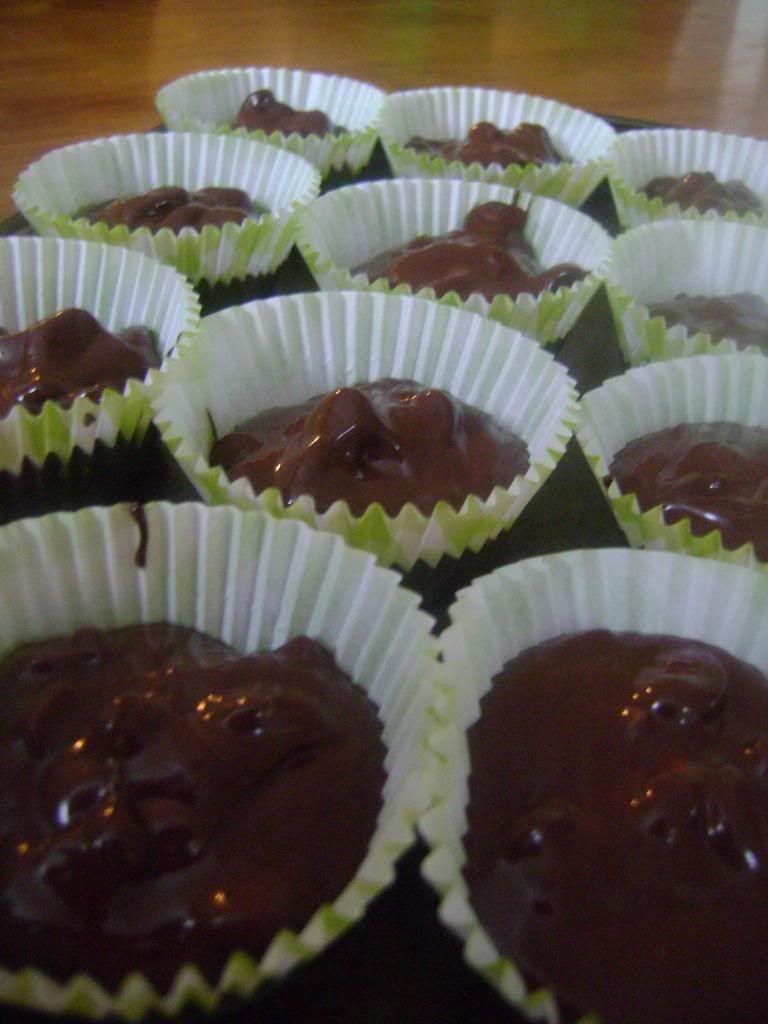 You'll need:
Leftover melted chocolate - about a cup, more or less - if there's not enough toss in a bag of chocolate chips and double the peanut butter and peanuts
1/3 cup peanut butter 1 cup peanuts spoonful of shortening, optional
Put your leftover melted chocolate in a double boiler over slightly simmering water and add the chocolate chips, if you're using them. Add the shortening too - this helps the chocolate stay hard at room temperature, otherwise the clusters will be "melty". (I just keep mine in the refrigerator and skip the shortening.) Stir the chocolate until it's melted. Add the peanut butter (more or less depending on how much chocolate you have) and stir until it melts in. Remove the chocolate from the heat and pour in the peanuts. You want enough to make nice sized clusters but not so much that there's no chocolate to hold them all together!
Once you've mixed all your ingredients, put a dozen paper cupcake liners on a small cookie sheet. Using a 1/4 cup measuring cup or scoop, drop a cupful into each liner. When you've used all your peanut/chocolate mixture, put the clusters in the refrigerator to harden.
These are one of my favorite Christmas treats (the only time I make them since I can't seem to stay out of them!) and I'll be completely honest and say that they rarely find their way into any of the Christmas tins that I give away. I'm just too greedy to share!