One of my best friends from college days is a superb cook and always makes the yummiest treats. People are thrilled to receive her Christmas tins!
This recipe for peppermint patties is one of those often requested treats - and it's always a favorite with everyone! It's become a staple holiday treat here and is always included in my list of favorite Christmas recipes.
Peppermint patties are easy to make. Most of your time will be spent rolling and flattening the patties (and dipping them in chocolate!). But it's so worth the effort! (And they are freezer friendly.)
This recipe makes a really big batch so you'll have plenty for your family and lots to share as well!
A Favorite Christmas Recipe
This recipe for peppermint patties is at the top of our holiday favorites. It's just not Christmas if we don't have some of these goodies hiding in the fridge!
I've seen a few different recipes, usually with butter or sweetened condensed milk (and even with mashed potatoes!) but this recipe for peppermint patties uses cream cheese as the binding agent. It lends a creamy tang to these sweet treats.
For these peppermint patties you'll need:
9 cups confectioners' sugar
1 8-ounce bar cream cheese
1 tsp peppermint extract (or more, to taste - up to 1 Tablespoon)
2 packages chocolate chips (you might need part of a third bag)
1-2 Tbsp shortening, optional
Instructions
Cover one cookie sheet with waxed paper and set aside.
Combine the confectioners' sugar, cream cheese, and extract in a large bowl. Mix well, using your hands, if necessary. The mixture will be slightly crumbly.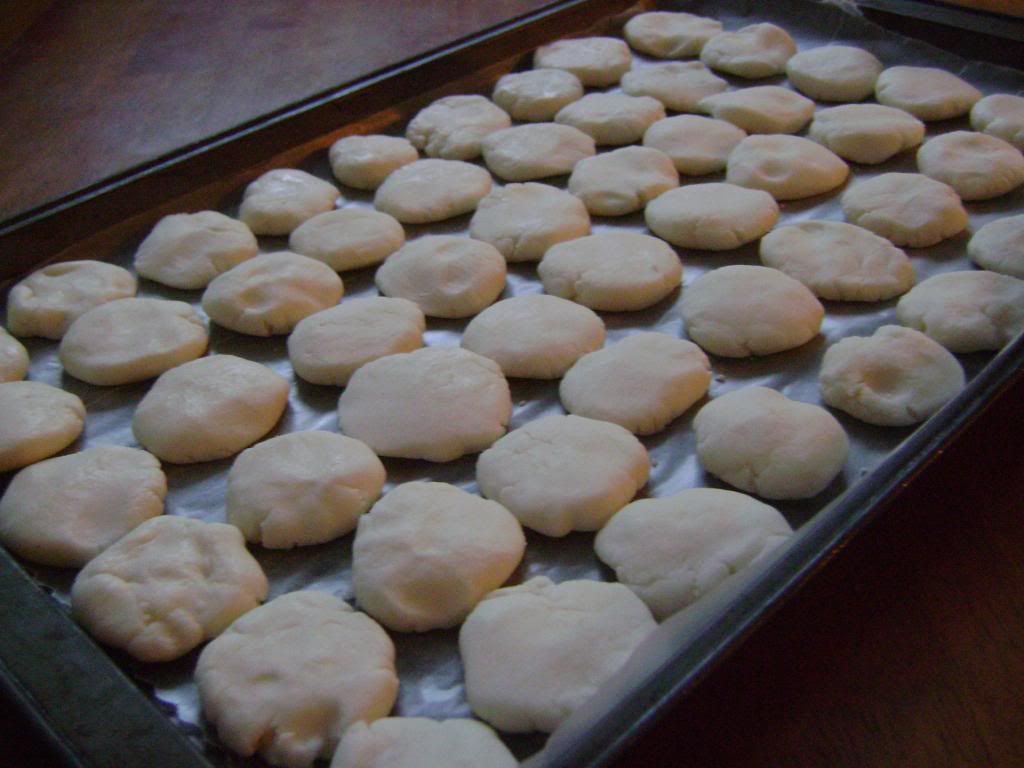 Use a small cookie scoop (1 tablespoon) - scooping one level tablespoon at a time, roll the mixture into a tight ball (will be crumbly but comes together easily) then flatten with the palm of your hand to form a little patty. Place each patty on the cookie sheet. When the pan is full, place another layer of waxed paper on top and continue forming patties. Chill for one or two hours in the refrigerator or freezer.
When you are ready to start dipping the peppermint patties, melt the chocolate in a double boiler over slightly simmering water. Add a bit of shortening if you want the chocolate to be completely hardened when the patties have cooled. Sometimes the chocolate will stay a bit "melty" at room temperature. I usually just store the peppermint patties in the refrigerator (we like them cold) so I don't bother adding the shortening.
While the chocolate is melting, remove the pans from the refrigerator. The colder the patties the more chocolate you'll need to coat them. So, if you want a thinner coating of chocolate, let the patties sit for about 10 minutes before dipping. If you like a thick coat of chocolate, freeze the patties first (you might also need about 1/2 of another bag of chocolate!).
When you are ready to dip, remove the chocolate from the stove, but keep it over the hot water (to keep it from cooling too quickly) and use two forks to dip the patties then place back on the waxed paper lined cookie sheet. Dip all the patties then place in the completed peppermint patties in the refrigerator to harden.
These keep well in the refrigerator or freezer.