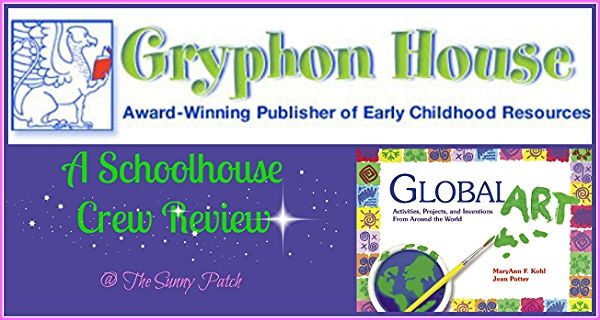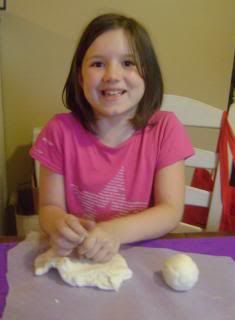 Working with salt dough
If there is anything that TJ loves more than science experiments it is art projects! So, when something comes into my inbox that has the word 'art' in the title I pay attention! So, when the chance to review Global Art from Gryphon House came up of course I had to say yes.
Gryphon House, an award-winning publisher, produces early childhood books like Global Art as well as a variety of materials for parents and teachers. They even share some free activities and resources for art, classroom management, infants & toddlers, literacy, math, music & movement, and science.
The Book: The book we received, Global Art, is 190 black-and-white pages filled with more than 130 projects for kids from preschool to 5th grade (or higher if your kid really likes art projects!). The projects are organized by continent and then further categorized by country or cultural group. So each chapter covers one continent with many, many activities. For example, the first chapter, Africa, includes projects that relate to Ghana, Mali, Egypt, Nigeria, and many other places (22 activities in this chapter alone). The variety of projects in each chapter are related to geographical area, customs, celebrations, discoveries, or native materials.
Each activity is on it's own page with icons in the top corners making it easy to select appropriate projects. The icons include experience level (beginning artists, mid-level artists, and advanced artist), art techniques (painting, sculpture, construction, drawing, collage, printing), and planning/preparation (1 - materials likely to be found in your home, 2 - materials that are familiar but may need to be purchased, and 3, materials that may be unfamiliar but easily found).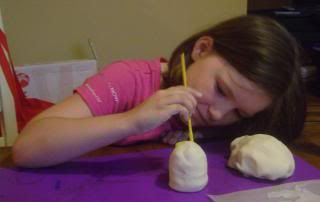 Each page follows the same format:
The title of the project is on the top with the icons noted in the top outer corner of the page. Under the title you'll find a simple explanation about what the project is followed by a list of materials and instructions. There's also black-and-white drawings so you can get a visual idea of what the project involves. My favorite part for each page is the fact box on each page. Here you'll find the place the project is from, a little globe with a star marking the location, and a little '
Did you know?
' informative text underneath that relates to the area, country or project. For example, the '
Did you know?
' box for the Cylinder Seal from Iraq relates the following:
"When the King of the ancient country of Ur (today known as Iraq) sent a message to far away places or when he made a new law, he stamped his royal seal on the clay tablet document to make it official. The royal seal was made of stone and contained carved scenes of the king's life or symbols for his name. When people saw the clay tablet with the royal seal, they knew the message was officially from the King of Ur."
History united with art! Gotta love that!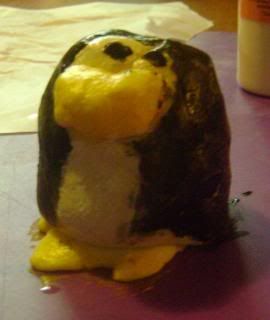 TJ's salt-dough penguin
The indexes are pretty great too. What if you decide you'd rather focus on art techniques instead of countries. They have you covered! There's an index that lists the projects and page numbers for each technique - collage, construction, drawing, painting, printing, and sculpture. Say you want to find projects that are easy for your younger students. There's an index with the projects listed under three experience levels. You'll even find an index that lists the projects according to ease of preparation.
Our thoughts: This is a great addition to our home library. I love having something that I can grab when we need a project to go with geography or history or cultural studies. Or just if TJ wants to do an art project. I highly recommend this book if you have a child who loves arts and crafts. I know that we'll get a lot of use out of it with our history/geography studies.
The authors, MaryAnn F. Kohl and Jean Potter have written many books about art that are perfect for a variety of ages. We also own Discovering Great Artists which I use a lot for our artist studies and I also highly recommend. Global Art is available for $16.95. The Schoolhouse Review Crew reviewed Global Art and The Homegrown Preschooler. If you'd like to read their reviews check out the Crew blog!