TJ loves to add as many hands-on activities to her school day as we can possibly fit in so I'm always on the lookout for easy-to-do projects that we can use to enhance our curriculum or add something fun to our day. Homeschool in the Woods is one of the places I look for ideas - they offer some great products that are perfect to add to any program. With hands-on projects, activity-paks, timelines, and maps (to name a few of the many things available at Homeschool in the Woods) you'll be sure to find something that you and your kids will enjoy.
After careful consideration TJ and I chose the Composers Activity Pak to work on for this review. We've been listening to a variety of classical music this year and I thought it would be a great way to wrap up our school year. It's chock full of activities (and music!) that are interesting and perfect for students in grades 3-8.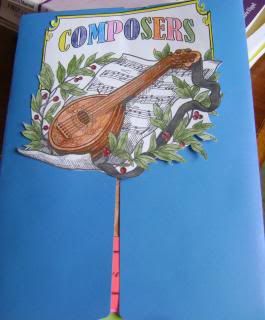 Front of Lapbook
What's included: I received the downloadable version of the Composers Activity-Pak so all I had to do was click on the link and save the zip file. After extracting the files, I clicked on the "Start" file. It's an HTML file that takes you to a special file on the Homeschool in the Woods website. From that webpage you can click through to see all the activities:
Suggested resources (books, CDs, and videos)
Lapbook instructions
Lapbook activities - photos of completed projects
Project masters for lapbook assembly and the six projects
Music files for listening
Project masters for two additional activities
All of these items are also available in the zip file as PDFs as well as the HTML link. Once I had everything downloaded I started printing. Each of the lapbook projects comes with instructions (be sure to print those first!) that detail exactly how and what to print. You'll need a variety of colored paper, cardstock, and a file folder along with some basic supplies (velcro dots, packing tape, colored pencils, and double-sided tape). Once I had everything printed, we were ready to go. It even includes 29 pieces of classical music in MP3 format from a variety of artists so it's not even necessary to add anything else to this very complete kit.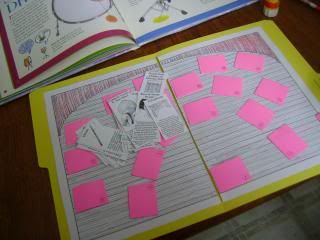 Orchestra File Folder Display
While working through the Activity-Pak, students will learn about 42 different composers that span the centuries from the Middle Ages to Present Day. And this Activity-Pak is full of great activities. There are six projects to complete the lapbook and two additional projects are also included. The projects include:
Periods of Music - a booklet on a music stand that details the various time-periods of musical history
Keyboard Vocabulary - two keyboards filled with musical terms and their definitions
Collection of Composers - 42 composer booklets with places to fill in data about the composers and facts about their musical accomplishments
Composers Timeline - a comprehensive timeline that includes the same 42 composers
The Orchestra File Folder Display
Pieces with Purpose - 6 booklets that detail various elements of classical music and it's rich history
Music Appreciation - a worksheet-style page to be completed as you listen to various musical compositions
20 Composer Cards - an extra project that can be used for learning about 20 composers
The Orchestra file folder display - a second extra project to be used to learn about the orchestra and the instruments that were included during four different time periods
Our thoughts: TJ and I both give this product two thumbs-up! We both love the projects - they are interesting and unique. I love that they are so professionally done. I've done some lapbooks in the past and we've always enjoyed them but they've always been really simple looking. The products from Homeschool in the Woods step it up a notch - the graphics are perfect and the projects are unique. I like them so much that I have two more activity-paks on my shopping list for our next school year!
I would highly recommended the Composers Activity-Pak to anyone who wants to add some hands-on projects to their day. They are perfect for the parent who wants unique projects that store beautifully and make a precious keepsake for the future.
I received the download version ($18.95) of the Composers Activity Pak but it's also available on CD for $19.95. Personally, since we live in Canada, I appreciate that there are so many digital products available so I can save on shipping costs and waiting for packages to cross the border. The Crew had the opportunity to review a variety of products from Homeschool in the Woods. Check out the Crew blog to find out more about the amazing products available from Homeschool in the Woods.