When I began this homeschooling journey with my daughter I happened across a copy of The Well-Trained Mind at the library. The plan really resonated with me and I've implemented many of the ideas and programs recommended by Susan W. Bauer and Jessie Wise. I knew at some point I would introduce Latin into our curriculum, but wasn't really sure where to start since I don't know anything about teaching or learning Latin. The Visual Latin series takes that teaching burden from my shoulders with it's self-paced DVD/video download series and entertaining instructor.
Visual Latin combines the Natural and Traditional methods of learning a foreign language, with instructor Dwane Thomas taking students through the fundamentals of Latin grammar, sentences, and reading. He believes "it's better to make students laugh than yawn" and that philosophy is very evident in the videos. Once your student has a basic knowledge of beginning grammar (around 3rd-4th grade) they can start learning Latin.
Here's a quick peek at the program:
What's included: Latin 1 includes 30 lessons - each divided into 3 short videos with corresponding worksheets. (You can see the first lesson here.) The 3 parts of each lesson are divided into topics – grammar, sentences, and reading. The videos are short (less than 10 minutes each) but jam-packed with information. Your child (and you!) will have your own personal Latin instructor when using this program!
The first video of each lesson focuses on one or two grammar concepts. After the video, the student is then directed to do the worksheet. The next segment of the lesson focuses on using that grammatical concept in sentences – grammar in action – followed by another worksheet. The final video focuses on translation work. Instructor Dwane reads a passage in Latin (from the Latin Vulgate Bible). He reads it a second time, more slowly, so the student has time to repeat the phrases. The student is then directed to his worksheet where he will have the chance to translate the passage. By the end of the lesson, the student will have used a variety of learning methods – aural, visual, and verbal – to learn Latin!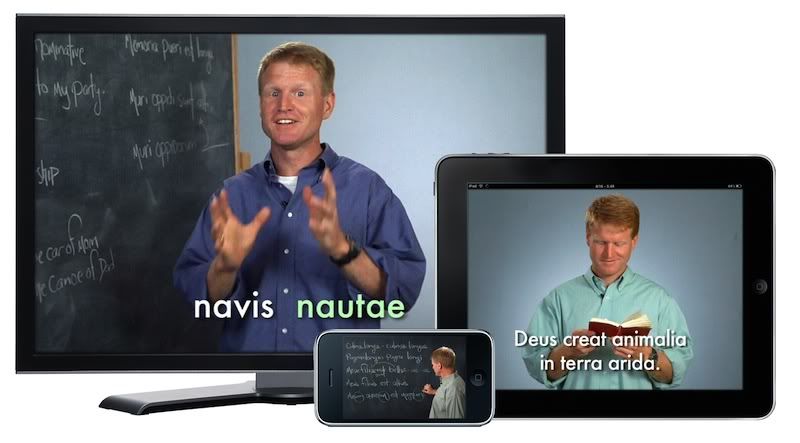 Our thoughts: My plan for teaching Latin was to get a head start before I had to start teaching TJ and this program fits the bill for my needs. The videos are short but jam-packed with information. It's very easy to fit in a short lesson even if my days are busy. Dwane is a great teacher - he holds your attention with his humor while tackling the difficulties of learning another language. I am definitely planning to use this program with TJ when she's a little older and has a better grasp of basic grammar concepts. I think she'll love having such an interesting and entertaining teacher.
Visual Latin is available on DVD or as a download so you can take it with you on any compatible device. The Latin 1 DVD set is $80 (you can also purchase the 3 DVDs separately for $30 each) while the downloadable version is $75 (separated into 3 sets - $25 each). If you've thought about adding Latin to your school day, I'd encourage you to look into this program. He offers the first two lessons as free downloads so you can try it out before you purchase the program. If you'd like to read more Crew Mates experiences with this program check out the Crew blog.