First grade was a memorable year for TJ and I - lots of fun history projects, great read alouds, and fun days with friends.
And of course the regular schoolwork - reading, writing, math, etc. Here's our curriculum from that year: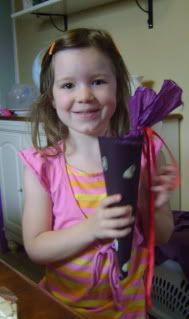 Overview of the year
I was so excited to really start homeschooling that we "officially" started TJ's first-grade year just after she turned six.... in January. (I definitely threw the 'follow the school calendar' rule out the window with that decision!) It turned out to not be such a bad decisions for us. I really cherish my memories of that year.
As far as actual school work - everything worked very well for the most part. There were certain times with RightStart where we had to set the book aside and work on other things. Then after a bit of time, we'd pick up where we left off.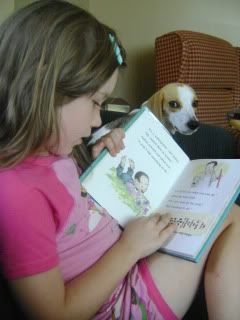 We had the most fun with science and history.
For history, we used Story of the World and we really had a blast! My one regret was that we overdid projects. Both of us were really burnt out on them before the year was out. Don't get me wrong! They were lots of fun but took up lots of time that we could have used for other things. History-based projects aren't such a big deal for us now - we'd rather use our extra time for handwork activities, reading books, and other pursuits.
Science was also a project-heavy year, which probably led to the project burnout! But it was a great study. We followed The Well-Trained Mind outline and focused on biology - Human Body, Plants, and Animals.
Once a week our friends came over and we worked on art projects using How to Teach Art to Children, Drawing With Children, and The Usborne Art Treasury. A few times a week we'd have a tea time and read poetry or listen to music.
Things I'm glad I did
I'm so glad that I discovered The Well-Trained Mind when TJ was still young. I honestly never thought about piecing together my own "program" instead of depending on a box curriculum. (Please don't take that as a slam against box curricula! I have no issue with them, I just honestly never knew there was any other choice before I read The Well-Trained Mind.)
I am very glad that we started doing a daily recitation/memory work time. After much reading and discussion on the WTM board and reading other resources about the benefits I decided to include it in our daily schedule. I know there is a lot of debate about the "worthiness" of memorizing things like lists of pharaohs and Roman emperors but I'm glad we included them along with Scripture, poetry, French, and grammar work.
Tea Time & Poetry was also a great part of our week. I've let it lapse in the past but we are back to our afternoon routine and I'm so glad. It's the perfect time to discuss books, listen to music, and read poetry. If there is one thing to add to your day - add a special daily time, even if it's only 20 minutes - where you sit and listen and share.
Reading was also important in first grade. TJ was in the "beginning chapter book" stage. So we spent time reading every day. Reading to ourselves (I usually read while TJ read - trying to set a good example!) and read alouds (here's our list of favorites from that year).
So, if you do a bit of math, read some books, and discuss things over tea - I'd say that's a pretty good first grade year!
Thing I'd do differently
Besides the project overload I only have a few regrets.
I wish I had been more patient.
When TJ didn't understand things as quickly as I thought she should I'd often get frustrated with her.
I also wish I had relaxed more and taken more time to "smell the roses" - field trips, nature walks, etc. We did things like that occasionally but, looking back, I wish we'd taken more breaks from the curriculum to explore.
Overall it was a good year and I learned so much about how TJ learns and how I teach. It was such a special time - I'm so blessed to be able to stay home and homeschool my daughter.