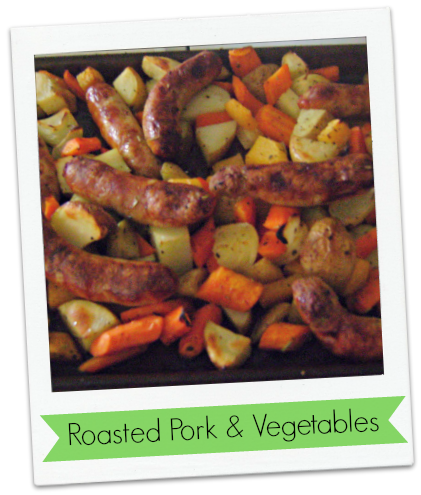 This is one of my go-to meals when I want something warm and filling on a chilly fall evening. It's also great for those nights when I need to get dinner ready and tossed into the oven quickly. While it does take time, most of that time is spent roasting away in the oven. This recipe is extremely versatile - I make it with sausage or bone-in chicken pieces - whichever I happen to have thawed. Or, if you have another main course planned, just make the vegetables as a side-dish. The vegetables are just as versatile - just choose any vegetables that you like to roast! It's a great way to clean out that crisper drawer when things are starting to look a little limp.
First off, you'll want to choose your veggies. You'll need enough to fill a large rimmed baking sheet. Here are some great roasting vegetables:
cauliflower
carrots
rutabaga
butternut squash
sweet potato
cabbage
asparagus
broccoli
brussels sprouts
green beans
red bell pepper
Choose two or three and chop into uniform sizes. Not to small because they'll be baking in the oven for an hour. If you like onions, chop a large one into quarters and add that to the mix. Toss them all onto your pan, there's no point in dirtying up a bowl!
Then choose your seasonings (a generous pinch or drizzle of each):
thyme, garlic, & balsamic vinegar
rosemary, lemon slices & garlic
red pepper flakes or slices of chili peppers & garlic
sage & rosemary
(I really love garlic with roasted vegetables!) Add a generous pinch of salt and pepper, drizzle with olive oil (about 1-2 tablespoons) and mix the vegetables up on the baking sheet.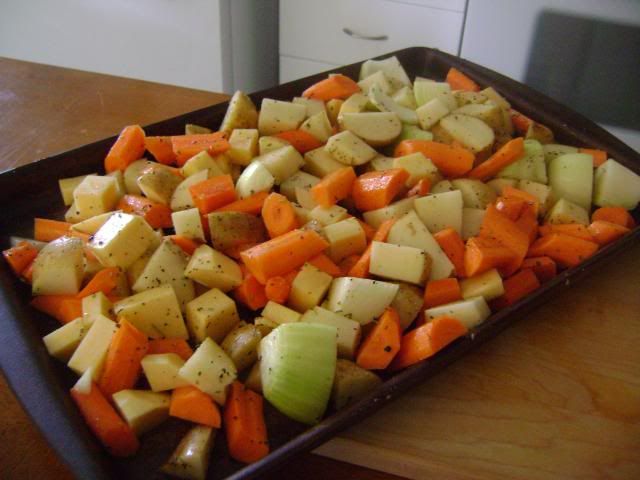 Veggies ready for the oven!
Then, put your sausage or chicken pieces on top, if you're using them, and season them as well. Salt & pepper and the same seasonings you used on the vegetables are good choices. Or smear a bit of Dijon mustard on top - that gives it a nice zing (if using Dijon, brush on at the halfway mark on the cooking time).
Now, for the heat. This depends on your pan. I use a rimmed baking stones (nothing burns on that baby!) so I can crank up the heat. I generally put it between 375-425. If you're using a metal pan you might want to reduce the heat to 350 or line your pan with foil (and maybe extend your cooking time).
Put the pan in the oven and bake for 1 hour, stirring with a spatula about halfway through cooking time. When it comes out of the oven you can serve as is or drizzle with balsamic vinegar or lemon juice. That's it! It's a simple formula but a great variety of possibilities!
Now that I'm following Trim Healthy Mama I still make this recipe. There really wasn't much I had to change. I just had to be careful to only use vegetables that are allowed with S meals. Or, if I wanted to make it an E meal, I had to be very careful of how much oil I used (1 teaspoon is the limit in an E setting!) and ensure that my protein source was lean. But other than that, this recipe is versatile and definitely fits in with a Trim Healthy Mama lifestyle!