The Virtue Training Bible is an amazing tool! I was so excited to receive it and as soon as I had purchased the necessary highlighters and tabs I set to work. This product allows you to go straight to the source, Scripture, to learn and grow in 42 virtues and doctrines (as well as references to the Father, Jesus, and the Holy Spirit). Mindy Dunn, mother of 4 (and one on the way!) created the Virtue Training Bible with John 15:4-5 in mind - "Abide in me, and I in you. As the branch cannot bear fruit by itself, unless it abides in the vine, neither can you, unless you abide in me. I am the vine; you are the branches. Whoever abides in me and I in him, he it is that bears much fruit, for apart from me you can do nothing." By spending time reading the Word you allow it to grow in your Spirit, and while using the Virtue Training Bible, you can focus your Bible study time on specific character traits and doctrines, making your study time very effective.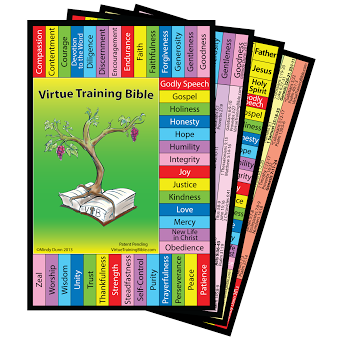 What's included: Now, let's spend a bit of time discussing what the Virtue Training Bible involves. When you place an order you will receive five colorful cards (8.75"x 7.5") that are sturdy and laminated. You'll also need a Bible (9" x 6"), 7 highlighters, 2 sets of post-it tabs (for specifics see the VTB website).
The first card includes instructions, a supply list, and information for completing your Bible as well as pictures of what the completed Bible will look like.
The next card is Virtue Training Bible Key (pictured on the right). This is the page you will adhere to the inside of your Bible. When your Bible is complete this is the page you will refer to when looking up specific character traits and virtues.
The remaining three cards are double-sided. The front of each includes a chart with a variety of Scripture references for each virtue (over 500 references in all). Starting with the top row, these cards are used to align your post-it tabs in the correct position. After you add the post-it, use the corresponding colored highlighter to highlight the Scripture reference that is included on the chart. There is one card for each side - so 1 for the top virtues, 1 for the bottom virtues, and 1 for the right-hand side virtues (this also includes references to the 3 persons of the Trinity). The back side of each of these cards includes 3 prayers and Scripture references for each virtue. These prayers are a wonderful addition to an already great product. They will help you "worship God, remember Christ, and walk by the Spirit."
When you've finished highlighting and tabbing all the references you're Virtue Training Bible is ready to use! When you want to look up a specific topic, for example honesty, you would open the front cover of your Bible to the key card. Find the topic you want to look up - honesty is located on the right-hand side, 4th from the top. All of the dark blue tabs that line up with that virtue will have Scripture references that deal with honesty. Flip to the various tabbed pages and you'll be able to quickly locate the highlighted passages. That's it! It's very easy to use. For a more detailed look at what a completed Virtue Training Bible looks like, watch the video below.
Our thoughts: I am so impressed with this product. It took me less than a week to complete, working on a few virtues at a time as I had spare minutes. I liked turning on some worship music or some Bible teaching while I read, tabbed, and highlighted. Even putting this together is an opportunity for study and devotion. My favorite part is the included prayers on the back of the reference charts. They are perfect for personal devotional time.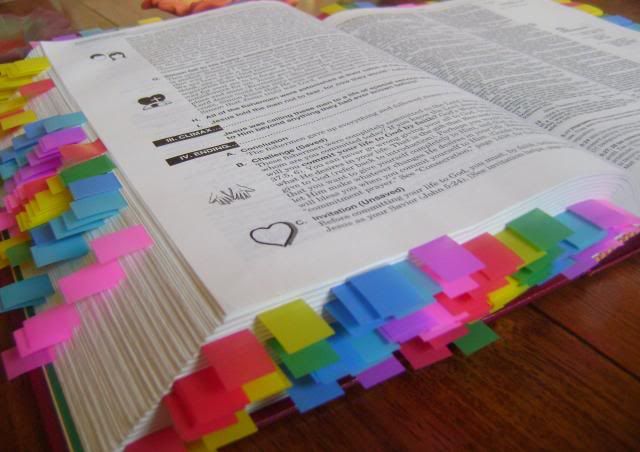 It's very easy to put together. The only issues I had was lining up the tabs (the perfectionist coming out in me!). The Bible I used had very thin pages so I made sure to purchase highlighters that wouldn't bleed through. I had no trouble at all putting this together and really enjoyed the process. I can assure you that this Bible will get lots of use in our house. We'll be using it for Bible study - personal and family as well as during school hours. My husband, who is the assistant pastor at our church, is excited to use it for his sermon preparation. I'll also be using it for Sunday School. So it can be used for a variety of ages from young children to adults.
The creators of the Virtue Training Bible also offer a Child Training Bible, which looks like a great tool to use with children, though you can also use the Virtue Training Bible for that. Instead of focusing on virtues, the Child Training Bible focuses on 'putting off the old self' and the sinful nature that we leave behind when we live in Christ. These products are absolutely beautiful and a wonderful resource with a variety of uses. I highly recommend them!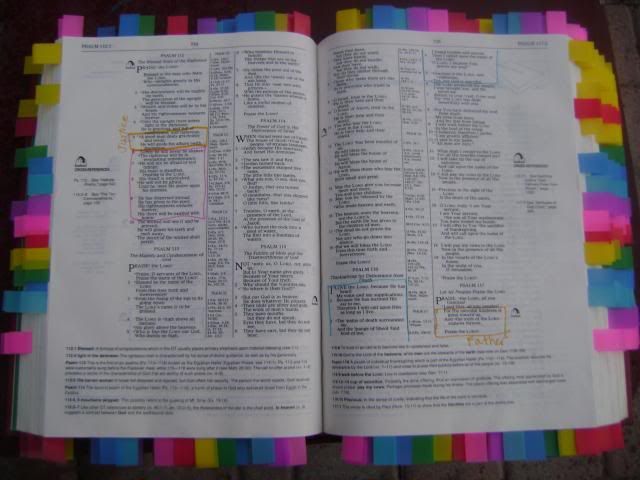 Disclaimer: I received one copy of the Virtue Training Bible chart set for free in exchange for an honest review. I was not required to write a positive review nor was I compensated in any other way. All opinions expressed are my own. I am disclosing this in accordance with the FTC Regulations.