I think an important part of planning a homeschool year is deciding on the goals you have for your child (or children!) for the coming year. It is so easy to get distracted by all the great programs and curricula, but it will be easier to say no if you have a defined list of goals to plan from.
The first step in planning a successful homeschool year - goal planning.
Are you ready to prepare for a new homeschool year? What's the first step you take? Usually it's sifting through that pile of homeschool catalogs sitting on your shelf. Or maybe it's asking what other homeschool families will be using. Maybe you're not too sure about your teaching abilities for a certain subject so you buy 2 or 3 programs to cover one subject.
But there is a better way to begin the process of planning for a successful homeschool year. The first step - deciding on the most important goals for each child.
Why should you set goals?
They provide a set parameter for your homeschool days
They keep you from overbuying curriculum
When times get busy you'll know where to put your focus
They give you achievable points to work towards
They provide tangible markers of your child's development
How do I know what goals to set?
There are a few things to consider when setting goals. First is what your child has already learned. Have they learned their basic addition facts? Then perhaps the next goal is to drill those facts for quick recall and then move on to learning subtraction. Many skills follow a natural progression so it's easy to see where you should go next.
Another tip is to consult your favorite homeschooling books. I flip through my favorite books (here's a list of my favorite resources) and jot down notes about things I know we need to work on.
Related: Homeschool Planning
Planning your homeschooling goals? Download my goal planning sheet:
Homeschooling Goals for Kindergarten
For kindergarten this is relatively easy - it's all about the 3 R's with a dash of fun! So, my goals for this year are small ones:
Spiritual:
Basic knowledge of Bible stories with the ability to tell back (narrate) a story.
Basic knowledge of sin, forgiveness, and Jesus' sacrifice.
Ability to pray without relying on memorized prayers and an understanding that prayer is talking to God.
Memorization of some simple Scriptures.
Language Arts:
Work on fluency in reading.
Basic grammar skills - recognize that sentences begin with a capital letter and end with a punctuation mark (period, exclamation point, or question mark).
Able to write the letters of the alphabet (from memory) and progress to simple words and sentences.
Mathematics:
Understanding of place value.
Ability to see patterns in math.
Counting out loud to 100.
Beginning skip counting.
Telling time to the hour and half-hour.
Simple addition to 10.
History/Geography:
It's all about stories, fairy-tales and adventures.
Basic map skills (using a compass, directions, following a simple map, etc.)
Science:
Exploration and hands-on experiments.
Lots of time spent outdoors, nature walks, observation, etc.
French:
All about immersion at this point - using as much French in everyday speech as possible.
Learn some church songs.
Readiness/Life Skills:
Pouring (with rice and water).
Making straight lines with a ruler.
Folding paper and using scissors.
Learn to help with household chores: making bed, helping with laundry, setting and clearing the table, putting things in the dishwasher, wiping off the table, dusting.
Learns to answer the phone correctly.
Memorizes address and phone number.
Arts:
Music: rhythm and beat, clap on the beat, singing.
Art: lots of fun projects
Homeschooling Goals for First Grade
Setting yearly goals is one of the most important aspects of planning for a homeschool year.
It's more important to know what kinds of things you want your child to accomplish each year than it is to make sure that they finish every page in their math book. Knowing the goals you have set for each year will keep you on track and also keep the dreaded 'curriculum buying monster' at bay.
You will find that your homeschool year will be more successful if you can find ways to make your program work for you instead of constantly switching from one shiny new program to another. (I'm not saying you should NEVER switch programs, but for the most part, I think it's worthwhile to try to make things work.) No program is without fault - there is no such thing as the perfect curriculum. Instead, look for programs that make it easy for you teach and tweak it to fit your child.
But the most important thing you can do is set some goals before your new school year starts.Then, when life gets in the way, you will know what essential things you want to focus on and what things can be ignored.
Below you'll find the goals we set for first grade.
Homeschooling Goals for Second Grade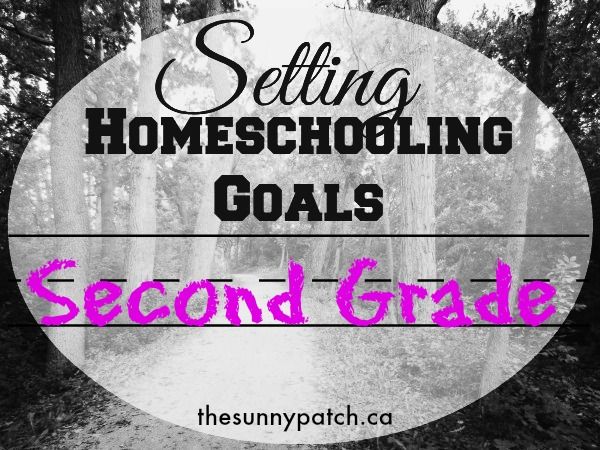 In the summer or fall I like to sit down and think about my objectives for the upcoming school year. The curriculum planning and shopping are loads of fun but I know that without clear goals it will be very easy to flounder. So far things have been fairly smooth this year - only one slight roadblock when TJ had an episode of croup one night. But I know that there is always something around the corner that could throw our schedule off. When those events stop us in our tracks, I need to stop and think about my goals. That way, instead of getting overwhelmed by the problem, I can simplify things and concentrate on the necessities.
These are the goals that I've written down for this year:
If an emergency comes up or I find myself floundering, I know that I can concentrate on the basic goals I've set for the year and feel like I've accomplished something. I'm trying to rid myself of the "we didn't finish every page in the workbook" guilt. I'm (slowly) learning that it isn't necessary to finish every page and every problem. That's the beauty of homeschooling - I can tailor the program to my child's individual needs. Sometimes it's easy to forget that in the day-to-day routine.
Homeschooling Goals for Third Grade
Do you set yearly homeschooling goals?
One of the first steps I take when planning a homeschool year is to sit down and map out what's really important for that year. Is it imperative that we finish every single page and problem in that math book? Nope. Did you ever finish a whole textbook in public school? I certainly didn't.
With achievable goals in your teacher's binder, you won't become a slave to the curriculum.
Here are the goals I wrote down for TJ's third-grade year:
When I find myself overwhelmed or when life just gets in the way, I can pare down to the basics and make sure I'm covering the important things I want to cover. It's inevitable that things come up and life throws a curve ball. When it does, knowing what you want to focus on can make a difference in how your homeschooling time is spent.
Homeschooling Goals for Fourth Grade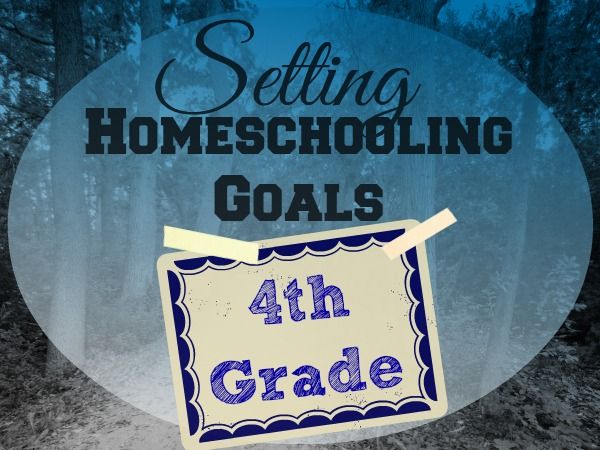 Here are the goals I set for TJ's 4th grade year:
As you can see they aren't anything particularly special. But they help to keep me on task. Instead of getting off track I know where I want to put my focus. I want her to improve her recall of math facts and writing in cursive in every subject by the end of the year. I don't need to buy piles of curriculum to meet those goals. Finding ways to work through those goals a little bit every day and every week will give tangible results in the long run.
Now that TJ is getting older I also spend time talking to her about important goals. As she gets older, I think that much of this will move to her shoulders as she becomes more independent in her learning.
Homeschooling Goals for Fifth Grade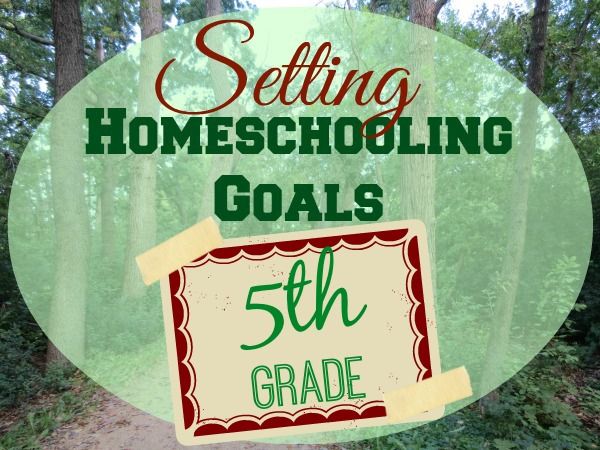 My homeschooling goals have made a dramatic shift this year. We've been in a 'must check it off the list and get on with real life' mode and it's not what I originally intended for our homeschool. I want to create an atmosphere of peace and learning instead of rushing through things or just doing them to get them checked off. I've been listening to many podcasts and youtube videos from Circe and Dr. Perrin and the ideas that the discuss have really struck a chord with me.
These videos - Scholé, Contemplation & Leisure and Teaching from a State of Rest - speak to the ideals that I envision for our school and it has caused me to rethink our homeschool day and how we have been doing things. So this year will bring many changes to our schedule and goals. 5th grade also brings it's own changes - more independence, discussion, writing & research skills... all the things that I want to add to our day. The biggest change will be with our schedule.
Teaching from Rest
To change the focus of our day from moving through a checklist to spending time delving deep and discussing many topics, we'll be having a daily morning meeting time. There has been much discussion on the WTM boards (here's one post) and I see it working well with our move to more independent learning. This morning time will give us a few moments to center our day on what's important.
Content subjects will also be changing. Instead of trying to rush through history and science each week, we are focusing on one thing in the afternoons. 3 weeks of history, interspersed with 2 weeks of science and 1 week of independent study. By spending more time focused on one topic each week we can delve deeply into the topic without feeling rushed to check things off a checklist.
I'm hoping that moving away from the 'to-do list' mentality our school day will be more relaxed.
With all of these thoughts in mind, here are our 5th-grade goals:
Homeschooling Goals for Sixth Grade
When I'm planning our homeschool year, my first step is to decide on our yearly focus. Every year is slightly different - the early years focused on reading skills and basic math knowledge. This year I have a few major goals I want to focus on:
Writing skills
Independence
Following directions
Time management
We'll still cover lots of other subjects, but these are the things that I'd like to pay particular attention to. TJ already has specific ideas about how and when she likes to do things but she's still lacking in following instructions and it's very easy for her to dawdle away her time. So, while she thinks she's ready for complete independence, I know that there are a few things that she really needs to work on before she's ready to take the reins completely.
My goal (for this year and next) is to slowly transition her to just checking in with me in the morning before she starts school and in the afternoon when she finishes. There will be a few subjects that we'll still work on together, but for the most part, she's ready for more independence.