I began to notice a trend last spring – many people on message boards and blogs were talking about workboxes. I was intrigued by the pictures and the conversations, but never actually got around to really finding out what it was about. Then I got the chance to review Sue Patrick's Workbox System and the rest is history!
Sue Patrick's system grew out of her desire to help her own special needs child and her wish to find a way to teach him. After her own initial success, she shared the method with other parents of special needs children and had the opportunity to improve on her techniques. Now she's packaged those same ideas into a book, giving her the opportunity to meet the needs of many more homeschooling parents.
The 122 page book covers more than just the actual instructions for the workboxes. The 12 chapters include information that covers a variety of homeschooling topics, from the benefits of homeschooling, teaching and training your children, to problem solving and specializing your child's education. A family that is new to homeschooling will find the information useful.
The actual workbox system is comprised of 12 plastic shoeboxes on a three tiered shoe rack. Each school subject is put in it's own box and the front of the box has a velcroed number attached. The goal is for the child to work through each of the boxes until his work is complete. Seeing the boxes emptying throughout the day is a good motivator for some children. It offers a visual cue, showing how much work they've completed and how much more they have to finish.
We've implemented a modified version of the workbox system into our homeschooling routine and TJ really enjoys it. I let her decide where to place some of the numbers, giving her an opportunity to feel a bit of independence. It also gives me the chance to add in some fun extras – things that we never seem to get to. Now I've got more opportunities to add in those fun things and make them a regular part of our day. The first few days it took me a bit of time to get things ready for the next day, but now that I've found my groove, it only takes a few minutes each evening to make sure everything is in it's place.
There are a few things that I had difficulty with. The first, and most important, is the lack of instruction in setting up the workbox system. Only a few pages of actual directions are given. It would be more beneficial, for me at least, to have clear instructions broken down into steps. I was also a bit disappointed in the downloads section of the website – there just wasn't much there. And, I must confess, I just couldn't bring myself to use the 12 shoe boxes, as suggested. Knowing that things wouldn't lay flat in the boxes and that my books would get bent kept me from using the system exactly as described.
I do enjoy having the workboxes. Set up is quick, I'm adding in fun activities that we never seemed to have time for, and TJ likes having choices in the daily decision making process. I really appreciate the fact that I can tell TJ to "get ready for school" and she'll gladly get out what we need to start the day. Nick really likes the system, as well. He can easily step in and work with TJ for a few minutes if I've got to start lunch early or something else happens to disrupt our daily schedule.
You can purchase Sue Patrick's Workbox System ebook for $19. Included in the purchase price is access to the downloads section of her website.
How we use the workbox system
I've seen many posts on message boards and blogs about workboxes and ignored them for a time. We had a system that worked for us and I didn't see the need to change anything. Then I had the chance to review Sue Patrick's Workbox System and, after modifying to fit our needs, we haven't looked back. TJ loves the new system and looks forward to peeking into her boxes to see what we've got planned. Here's how we've tweaked it to fit our home:
On the weekend I'll sit down and fill out what we'll be doing for the week, using a simple 5-column chart with 12 boxes for each day. I flip through my teacher's manuals or TJ's workbooks to make sure I know what is coming up for the week and I pull out the other worksheets, copywork pages, etc. that we'll need. TJ goes through our index card file box (more about this later) and picks out the "fun" stuff she wants to include during the week. I fit them into the chart along with our regular schoolwork and then we start getting things ready. All of TJ's daily skill subjects - math, spelling, writing, Bible, grammar, French, and morning drill and recitation go into separate magazine holder's on a narrow bookshelf in our dining room. I don't refill these boxes each day – we just leave all teacher's manuals, workbooks, and worksheets inside. If something doesn't fit (binders, etc.), they sit on the shelf beside the appropriate box and are pulled out when they are needed.
All the other work – geography, science, music, reading, etc. and all the "fun" things, go in a plastic six-drawer rolling cart (well, it used to roll, then I took the wheels off :) ). The items in these drawers vary. The top drawer is used to hold our phonics primer and never gets switched out for anything else. The same goes for the bottom drawers. The last box holds our weekly science experiment (I get everything put in there on the weekend so it's ready to go), and the drawer above that holds our geography supplies (books, maps, and project stuff), and is only used once a week. The remaining three drawers are the only three that I have to refill each evening.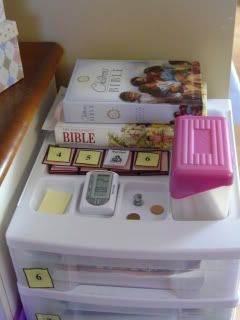 On the top of the plastic tower I keep an index card box with our activity cards, a timer, and TJ's schedule strip.
Each morning, when school starts for the day, TJ grabs her schedule strip, a caddy of supplies (holds flashcards, pens, pencils, crayons, glue stick, scissors, etc.) and gets her first box of the day which is always the Bible study box. After we complete Bible study, she takes the number off the front of the magazine holder and puts it on the grid attached to the side of the bookshelf. Then she checks her schedule strip and gets out the next thing. Any work that she completes without me is put in a designated spot on our dining room table. Our morning continues like this, with a few fun activities so TJ has a chance to get the wiggles out. Then each afternoon after school is complete for the day, I use my weekly chart to re-do the schedule strip for the next day, TJ puts the numbers on the magazine holders (she likes the independence of deciding when to do each subject), and I make sure that all the boxes are ready to go. It takes less than 10 minutes since the magazine holders and most of the boxes never need to be refilled.
The index card box holds all our activity cards and the numbers for the schedule strip. I also use it to hold ideas for the workboxes. When I come across a new idea I write it on an index card and file it in the box under the specific subject the idea fits under. The activity cards are also filed according to subject.
All of the "fun stuff" that I find – file folder games, fun worksheets, etc. I keep in a hanging file folder box near the bookshelf and the regular stuff (copywork pages, French worksheets, math drill pages, and the like) are in the hanging file folder section of a desk apprentice, filed according to subject.
This system works for us and makes things easy to set up on a weekly basis. I love the fact that I'm fitting in the fun things that always seemed to get pushed aside and I'm not fishing to find stuff at the last minute for experiments or projects because it's already in the box!