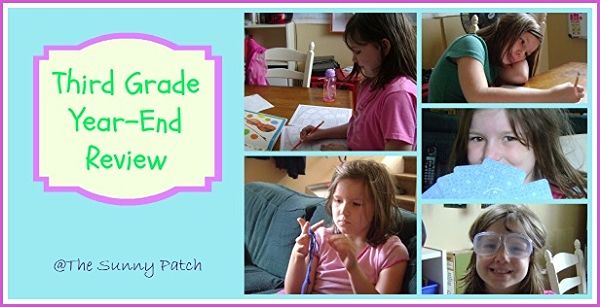 This post contains affiliate links.
We'll be starting 4th grade in a few weeks so I wanted to completely wrap-up our third-grade year by sharing what we accomplished (or didn't finish!) this past school year. As far as what/how we do things, I pretty much follow The Well-Trained Mind philosophy and it's worked very well for us. Most of the curricula we use was just advancing from one level to the next with a few new things thrown in the mix.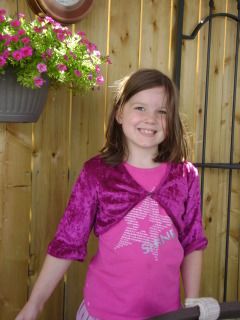 First day of school
First off, our schedule: TJ's third-grade year started in August 2012 and finished June 2013. Our general schedule was to do schoolwork for six weeks followed by a week off and repeating that cycle for a total of 6 6-week terms with longer breaks during Christmas and summer and the odd holiday weekend thrown in too.
Dividing things into terms made it very simple to add in things like artist study - we simply chose a new artist every term. We're continuing that cycle again this year as it's been working very well for us. We did most of our schoolwork Monday-Thursday and Fridays were pretty much used as days to catch up on whatever didn't get finished plus a few fun things. We did use a loop schedule for much of the year but slowly transitioned to a new schedule - TJ and I worked together each morning, setting aside the things she could do on her own. Then, in the afternoon, she had a "study hall" where she worked through the rest of her work. This worked very well and we plan to do the same this year - I like working together but having the afternoon for other things (cleaning, blogging, reading, etc.) while TJ finishes up.
Now on to our completed work!
Our morning time consisted of math drill, recitation, devotions, and Bible study -
Bible: Each morning TJ read from her Bible storybook, The Children's Bible in 365 Stories and a few times a week Nick and TJ worked through the Grapevine Studies stick figure book. Partway through the year, we added in Wisdom and the Millers.
Memory Work: We have a morning recitation time that includes poetry, Scripture, Latin, and French, as well as a few other things. Pretty basic and no-frills but it gets the job done.
Next is Language Arts -
Spelling: We continued using All About Spelling this year, completing levels 4 & 5. TJ seems to be a natural speller though there are words that tend to stump her occasionally.
Grammar: We used First Language Lessons for grades 1 & 2 and I decided to keep using that program so we worked through level 3 this past school year. TJ loved having her own workbook. It was a nice step-up in required work and she met the challenge. Her favorite part was the diagramming - she thinks it's fun. Go figure.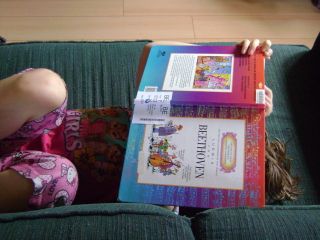 Reading: This was a biggie for her this year. She made that transition to chapter books last year so I stepped things up a bit. She had history reading assignments a few days a week - usually picture book recommendations from The Story of the World Activity Guide. She also had 30 minutes of quiet reading time each afternoon and, to encourage more reading (quiet reading time is not her favorite!)
I let her read in bed at night until she was sleepy. I also had her read aloud to me a few times a week - just a short selection either from her Bible or Nature Reader. And of course, we had our read alouds.
Writing: This is where I ran into a few slight problems. For the last two years, we'd been using Writing with Ease - workbooks 1 & 2. This year I thought that I'd like to incorporate her writing assignments into her work so I just used the Writing with Ease Instructor Text. This worked well for the most part but TJ doesn't need much work with dictation - she can hold quite a bit in her head. Narration/summarizing still needed work so we kept plugging away at that but we were ready for something more so halfway through the year I purchased Teach Writing: Structure & Style. I watched the first few discs and had TJ work through the student workshop at her level. She loved it. So we still did dictation when it came up in Grammar, we worked on narrations twice a week with History, and we started the first two units of Structure & Style. This worked well and I'm happy with what we accomplished. TJ moved from dictating her narrations to me to writing them herself (with some prompting).
Moving on to Math -
We continued using RightStart this year - level D. TJ started the year knowing her basic multiplication facts but speed was her issue. I saw a big improvement with that over this year - she can do multiplication problems more quickly and, when division was introduced, she understood it right away and can already do division problems just as quickly. Along with RightStart, we used a few other things for drill - Horizons, a few problems done daily and occasionally, Math Rider. She also used Singapore's Challenging Word Problems as a supplement. This combination worked very well for us.
Can'tforget Foreign Languages -
We dropped Greek very early on and just focused on our other two - Latin & French.
Latin: We used Prima Latina this year - it was a nice, easy introduction to Latin and we both enjoyed it. TJ did quite a bit independently - reviewing her flashcards and such.
French: We used Mission Monde French this year, after using their ABC program last year. It was simple, easy to use. I had intentions to add in more immersion time but we never seemed to get around to it. Sigh...
And the fun stuff! -
History: We tried Bigger Hearts from Heart of Dakota for a change of pace. We had been doing Story of the World in a little co-op group with some friends so I thought we'd do Bigger Hearts a few days a week and continue our co-op once a week. But the co-op fell through this year and I didn't want to drop Story of the World so we ended up setting Bigger Hearts aside and just focusing on Story of the World. We picked up where we left off in Story of the World 2, finished that and about half of Story of the World 3. Our general pattern was to read aloud from the text while TJ colored a picture, then we'd work on a narration page, do the map work and some extra reading before moving on to the next chapter. Occasionally we'd do a project or two but this wasn't the year of big projects for us.
Science: This year my goal was independence. I wanted TJ to work on science once a week as independently as possible. She used a Magic School Bus Chemistry kit for most of the year. Once a week she would do an experiment or two, write it up on an experiment page, and then write up one or two definitions of scientific terms taken from the cards (I chose two words each week and wrote them on the board). She used the dictionary and the glossary in the science encyclopedia for the definitions. After the first few weeks, she did this completely independently. I just took pictures. The last term of the year we worked through The Elements by Ellen McHenry.
Art & Music: Art and music worked very well this year. For art, I was determined that we would do an actual artist study. We chose six artists to study and I found six art prints for each artist and had them printed as photographs. Each term we'd choose an artist, hang the photographs, and, each week, TJ would choose one of the prints. We'd look at it and discuss it before flipping it over and "narrating" the picture to each other. TJ also read a book or two each term about the artist (I really like the Mike Venezia books for this!) and she'd do an art project for each artist as well. We did start the year planning to study six composers but that didn't work for us this year. Our music focus was pretty simple - our great library system has some of the Beethoven's Wig CDs so we'd listen to those while TJ worked in a Canadian geography book. I had plans to do some mapping a la The Core but we never did that either.
So that's it - a look at third grade. Overall I'm impressed with what TJ learned and accomplished. I've seen lots of growth and a a big step-up in independence. I'm looking forward to our new school year - starting next month!