It's day 2 of our 5 Days of Organization for Bloggers.
Last week we discussed the daily blogging tasks that can take up much of our time. But, with some time management, you can reduce that to a manageable level. But there are still some tasks that that I didn't include in that checklist.
I like to call these my weekly and monthly tasks respectively.
Weekly tasks are "housekeeping" tasks that need to be done but don't necessarily need to be done very day. There is some overlap between the daily and weekly tasks. Sometimes I don't get to the jobs on my weekly list but they can be taken care of on a day-to-day basis so I include them on the daily checklist as well.
What kind of jobs do I include on my weekly checklist?
Responding to comments on blog posts
Following new people on social media (Twitter, Facebook, Google+, etc.)
Using online tools to automatically post to some social media platforms
Weekly Twitter parties
Small blogging goals or website improvements
Submitting posts to online contributor sites
Promoting a post from the archives
Tasks to complete upcoming blog posts (pictures, pinnable images, etc.)
Writing and sending a weekly email newsletter
As you can see, these things don't need to be done every day (they certainly could be, I just don't have the time!). But fitting them in during the week is still an important part of the week.
There are also a few more tasks that don't need to be done as often so I relegate them to the once-a-month checklist.
This includes:
Blog topic brainstorming session
Creating draft posts for the upcoming months
Adding draft posts to editorial calendar
Checking for new sponsorship opportunities or campaigns
Changing out ads
Recording income for the previous month
Updating monthly stats
Updating media kit
This is also when I do the bulk of my blog post writing. Each month (every 6 weeks for me) I find 4 days where I can set aside 2 hours each day to write the rough draft of 3 blog posts each day. I don't spend any time polishing or adding pictures or links, just 40 minutes per post, getting words on the screen. These posts get added to the editorial calendar and then all I need to do is polish them up, add pictures and links, and they are ready to go. Having the drafts complete ahead of time saves a lot of time during the month.
One other tip - While writing these drafts I also keep a running list of things I'll need to do to finish up the posts. Things like pictures (especially for cooking posts) or thoughts I want to elaborate on. No special checklist for this step - just a sheet of paper! I write the date the post will be 'going live' so I know how soon I need to get each task done. This step really helps keep me on track.
Or course these tasks will look different for every blogger but this will give you an idea of the variety of tasks and jobs on your plate. There's so much more than just typing and sharing a quick post!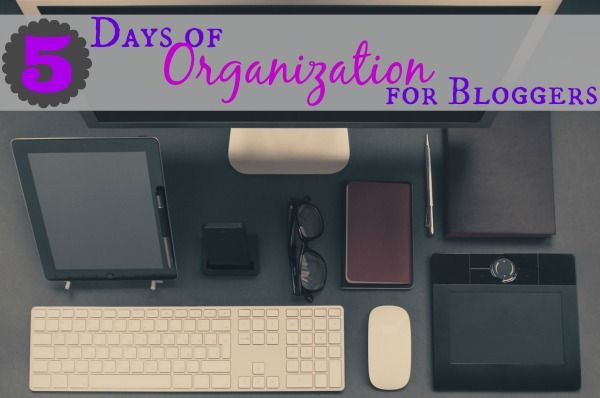 This is the second day of our 5-day series - 5 Days of Organization for Bloggers.Here's the complete line-up: